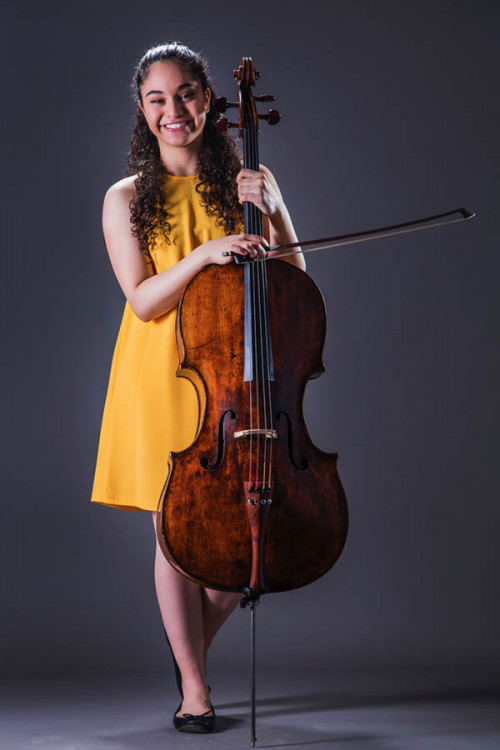 Danielle Akta, Cello
An active soloist from an early age, Danielle performed with the Moscow Virtuosi & Vladimir Spivakov, the Israel Philharmonic IPO, the Cape Town Philharmonic, the Georgian Chamber Orchestra Ingolstadt , the Trans-Siberian Arts Festival by Vadim Repin with the Novosibirsk Philharmonic, a USA tour with the Jerusalem Symphony, the Israel Symphony Rishon LeZion, Israel Netanya Kibbutz (NKO), the Israel Sinfonietta Beer-Sheba, the Ashdod Symphony, recitals at the AIPAC Conference 2016 in Washington D.C and participated at the Verbier Festival Academy 2016.
Engagements for 2016-2017 season include concerts with the Moscow Virtuosi (Moscow, Paris, Brussels, London) including USA concerts tour (June 2017), concert series with: IPO (Israel, Mexico), NKO, Tel Aviv Soloists (Israel and Poland), concert tours with LGT Young Soloists, participation at Kol Hamosika Spring Festival, Concert with the Russian National Philharmonic orchestra Under maestro Vladimir Spivakov at the Colmar Festival, France and more.
Born in Israel on 29 August 2002 into a family of musicians, Danielle began to play the cello at age 4 at her own request, after listening to a recording of Jacqueline du Pré
Danielle, a grant-holder of the Vladimir Spivakov International Charity Foundation, Recipient of the "Oleg Yankovsky's prize - Artistic Discovery of 2015-2016" - the Young Artist Award for young promising artist - Awarded by Maestro Vladimir Spivakov, Winner of the competitions FLAME Int. Paris 2014, Muse Int. Athens 2014 & 2015 and the Israeli National Cello Competition 2013, Recipient of the AICF Scholarships with distinction, she performed at Lincoln Center in the AICF 75th Gala event hosted by Itzhak Perlman.
She was also awarded the Zfunot Tarbut scholarship for Outstanding Young Musician, she is an Ambassador of the iClassical-Academy.
Danielle was named Top 10 classical music performer in 2016 by The Daily Gazette and Critic's Choice 2016 in Classical music by the 'Times Union'.
​A student of Prof. Frans Helmerson at the Barenboim-Said Music Akademie in Berlin, Previously Danielle studied at the Raanana Music Conservatory (RMC) with Luba Rabin and previously with Galina Aaronovitch. Danielle participated in master classes with Laurence Lesser, Torlief Thedeen, Pamela Frank, Gabor Takcs-Nagy, Maria Tchaikovskia, Dmitry Yablonsky, Rafael Wallfisch, Ralph Kirshbaum, Gary Hoffman, Evangeline Benedetti, Raphaël Pidoux and Paul Katz.
Danielle plays an Enrico Orselli cello; master Italian luthier student of Ettore Soffritti. This exceptional instrument, build in Pesaro around 1925/1930, is graciously put at Danielle's disposal by Dr. Moshe Kantor through the Vladimir Spivakov International Charity Foundation.
Danielle plays a Claude Thomassin Bow built in Paris around 1900/1920 graciously put at Danielle's disposal by the Vladimir Spivakov International Charity Foundation.